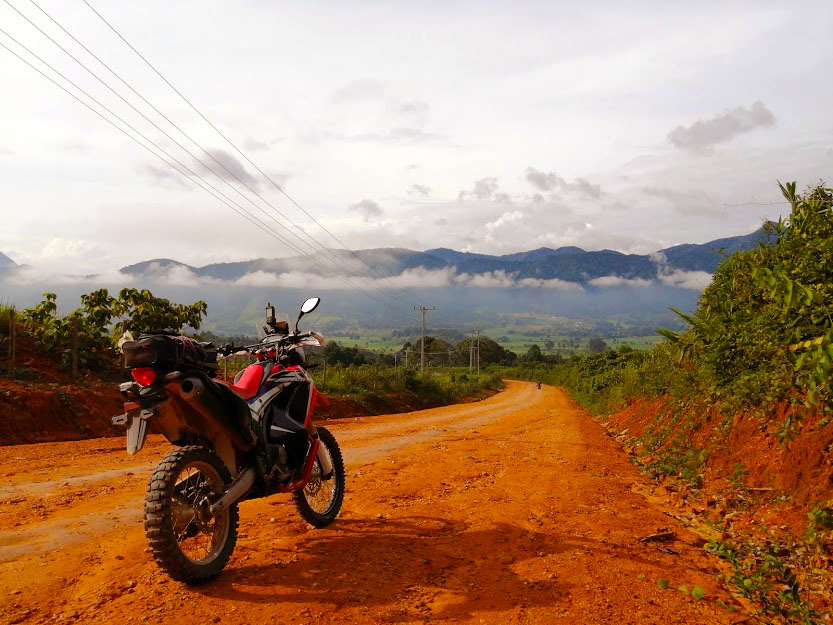 Our Easy, All You Need Guide to Ride Laos
We look forward to see tourism returning to Laos once Covid-19 is under control. Especially travelers that ride motorbikes. If you're planning a motorbike trip with us, this handy guide to ride Laos will ensure you have a safe and memorable time.
Laos, a developing Asian country, is unlike anything in 'the western world'. Planning for a trip here is essential. Items you will find handily in your home country or even in major SE Asian cities like Bangkok may not exist in Laos or may not be of the quality you prefer. However, what you will find in Laos are experiences, food, people, and scenery unrivaled by any expectations.
Booking a tour in Laos: If your coming directly to Laos, book with a Lao Travel Agent rather than a non-Laos one. Lao Agents will be there to help you 'on the ground' should you need it and not in some distant land with little or no awareness of local customs. Carry printed receipts or other evidence of related payments you have made, which can be used locally to verify any situation.
General Visa Information
All foreign visitors need a visa to enter Laos. Thirty-day tourist visas are readily available on arrival at most airports and some land borders. They can also be applied for at the Laos Embassy in your country and online at https://laoevisa.gov.la/.
Visa on arrival: The process is quite straightforward. You need between US$30 and US$42 in cash, two passport-sized photos and the name of a hotel or guesthouse. Those without a photo, or who are arriving on a weekend, holiday or after office hours, will have to pay an additional one or two dollars. The fee can be paid in Laos Kip, Thai bath, or US$. No other foreign currencies are accepted.
If flying in you will have completed your Visa Application Form on the aircraft. Give that completed Visa Application Form, photographs, and cash to the control point at your arrival airport. They will process your application and appropriately stamp your passport, if approved.
Laos eVisa: As of July 2019, citizens from 180 eligible countries can get a Laos tourist visa online, through the new Laos eVisa application. This visa has been created to make the application process faster, allowing eligible citizens to avoid long waits for a visa on arrival at the Lao border. eVisas are valid for a single entry stay of up to 30 days. Citizens of the countries eligible to receive this include those from Australia, Canada, the United States, and member countries of the European Union.
To qualify for the Laos visa online, applicants must be citizens of an eligible country and meet the following Laos eVisa requirements:
A passport with a minimum validity of six months from the expected date of arrival.
An email address where the approved visa will be sent.
A debit or credit card to pay for the visa fee.
Applicants simply complete an online application. It is recommended travelers apply at least 7 days before their expected date of departure. eVisas are only accepted at the following border entry points: Wattay International Airport (Vientiane), Luang Prabang International Airport (Luang Prabang), Pakse International Airport (Champasack Province), Lao-Thai Friendship Bridge I (Vientiane), and Lao-Thai Friendship Bridge II (Savannakhet Province).
Visa Extensions: Your visa can be extended twice after the initial 30 days for periods of 30 days, allowing you in total to remain in the county for 90 days. To make an extension, you need to attend the local visa office. Offices are available in major cities such as Vientiane, Luang Prabang, Pakse, and Savannakhet. At the Immigration Office, you will complete the appropriate Application Form and pay a fee of approximately $60 in Lao Kip. There may be a small additional processing fee on special days. Bring an extra 25,000 Kip to ensure you have enough for any fees. Any fees will be included on your receipt. The receipt will be needed when you return to the office to retrieve your new visa.
Good to Know Before You Go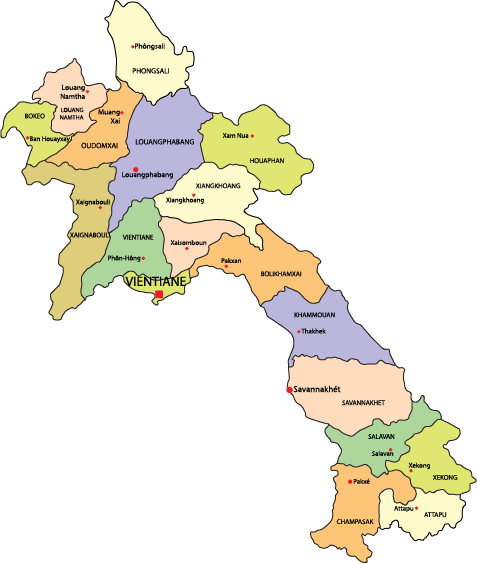 Covid 19: We're fully compliant with Government guide lines, all our staff are Vaccinated and ensure best practices at all time. Masks and sanitizers will be supplied for our customers. Everybody's compliance is asked for to ensure others safety, as well as ours.
Insurance: You should have Travel, Accident & Medical Insurance. Make sure you are covered for the activity you choose. If it's motorcycling, ensure you have the correct entitlement. Now with Covid insurance becomes even more of challenge, there is a link at the bottom the page that you may find useful whilst buying insurance.
Accidents: Accidents happen, but there are many things you can do to limit their effect should you be unfortunate enough to have one. First, ride within your limits. The second is to wear good protective gear that properly fits you. Also, ensure you give other road users all the space they need and adjust your speed to what's going on around you. You must accommodate the other road users including animals and drunk drivers. Hospital are not the best here so if you injure yourself and need one, we'll send you to Thailand for the best care. Please ensure you're covered for this by your insurance policy. In the event of an accident here in Laos, pictures must be taken for insurance purposes and the insurance company informed.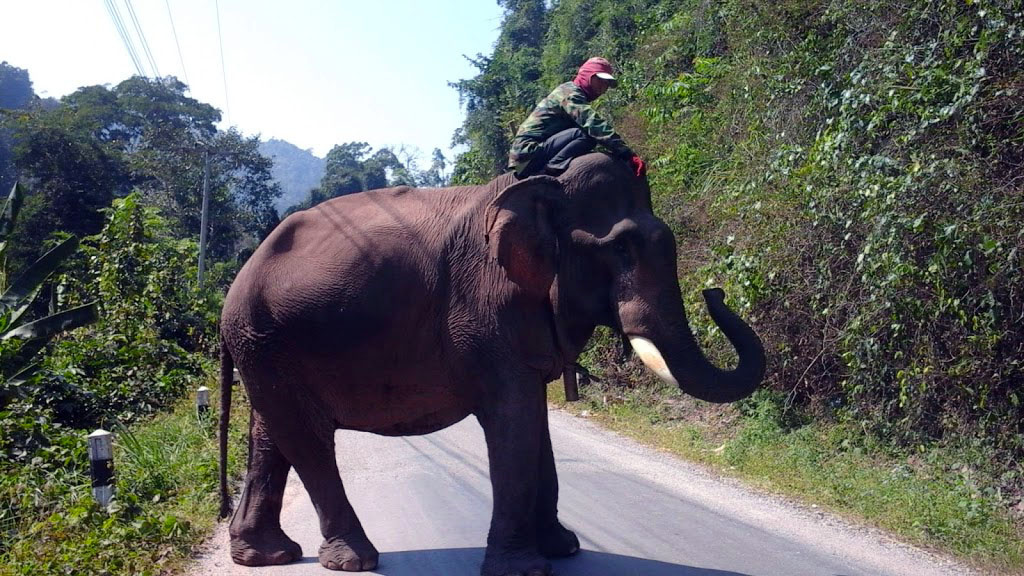 Health: Required Health inoculations vary. Be sure to check with your doctor before you leave home. Laos has both Malaria and Dengue. Precautions should be taken against both and use of nets and repellent can minimise the risk greatly. Bring a Traveler's First Aid Kit with you. As for Covid-19, we take every step we can to be as safe as we can. Masks and hand cleanser are given to all our clients. First Aid Kits should be carried.
Money: Kip is the local currency, but USD is sometimes used in large cities. ATM's and 'money exchange booths' are everywhere. With regard to ATM's, it is a good idea to tell your bank you will be in Laos. That should overcome the problem of your card being rejected by a local machine. While your card is very handy, you should always carry cash, including local currency in smaller denominations. You need cash in Laos to pay for fuel, food, lodgings, etc. Make sure you can access cash at all times in case of emergencies or snacks. Here cash is king and ATM's may not be close by!
Valuables: Items you don't need to carry such as passports, excess money, credit/debit cards, are things you don't want to lose. Keep them safe somewhere, whether on you, or in a safe place elsewhere.
Language: Communication is very important. Towns and cities will have English speakers, although even in crowded places they may be few and far between. The quality of the locally spoken English is at often poor so if in conversation slow down what you say, speak clearly, and say it simply. If you're going into the countryside, Lao will almost certainly be the only language spoken. Wherever you are, we suggest you print out your bookings, as just their sight may make things easier to explain if necessary.
Guided Tours: As we know Laos very well, not only can you expect a lot of fun from our guided tours, you who have continuous help while with us. Each group is assigned a Guide. From the time you are met at the airport, till the end of the tour, your Guide will be with you. At those times when further support is needed, the company will provide it. Haven't decided on a tour yet? Here are a few we offer!
Guide to Ride Laos with Us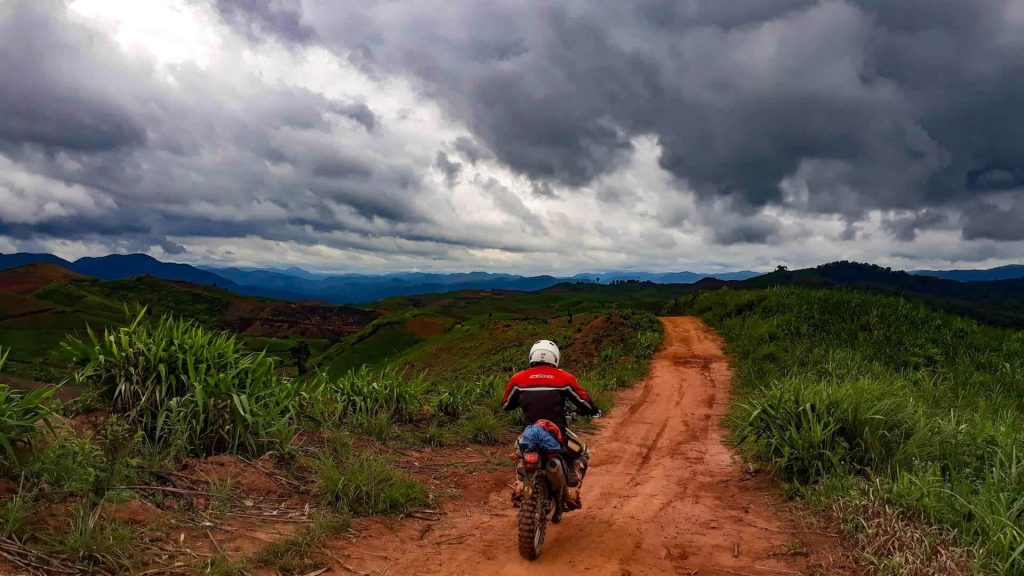 Rentals: If you are renting a bike, you need to be confident it is in sufficiently good condition to complete the tour. In Laos there is no recovery service. Whilst we do our best ensure that the bike will be in good condition to fulfill its purpose for the period of the rental, things can go wrong. We are quite happy for you to record the condition of the bike in your own way. That may be by inspecting the bike, taking pictures as a record, and noting any damage prior to signing the Agreement, which is a legal document in Laos. You have an obligation during the loan period to maintain the bike in the best condition and report any accidents it is involved in. If you do that, there should no problem that cannot be solved.
Ability: When riding, always ride within your limits and at a pace where you are in full in control of the bike. Riding within yourself reduces accidents that may occur when you ride beyond your limit. Be sensible and be safe! We had a guest who never made it out of the garage because he crashed getting out. We have also had guests who have lasted an hour or two, before leaving the tour with broken bones. However, the vast majority of our customers complete their tour unscathed.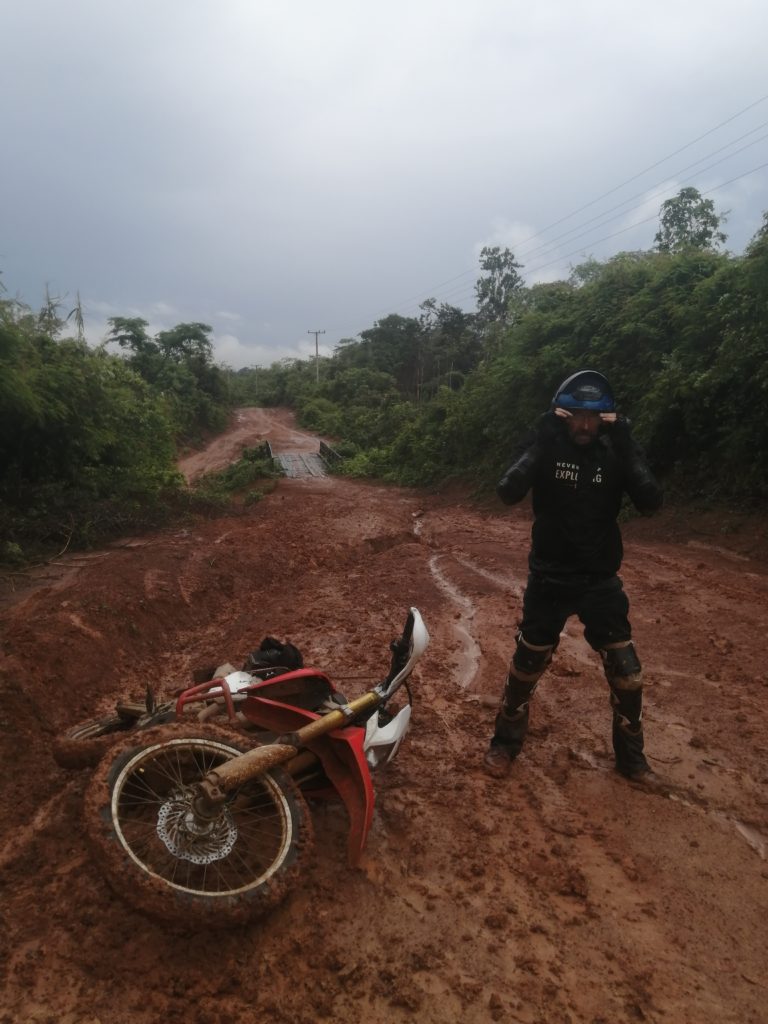 Tools & Spares: The bike is supplied with a Honda Tool Kit, tyre levers, air pump for punctures, chain adjustments, etc. We will supply you with spares such as cables, tubes, fuses, and chain links, as necessary. If you want to supplement our Tool Kit, please feel free to bring along anything else you may wish to.
Riding gear: With the advent of Covid-19, we're unsure if people will be happy to wear used gear. If you are happy to wear our gear, we stress that everything is painstakingly cleaned to ensure it's suitable for reuse. If you bring your own gear, please remember the season. It is hot, often very hot, out here. Loose fitting MX gear is the coolest for Laos conditions. If it rains, we buy ponchos.
What to Pack: You'll need a wash kits, towels are supplied at the guest houses. For evening wear you need some long pants and a fleece or light jacket in the colder season, shorts will suffice in the hot season, a few T shirts & Under wear, depending on how long your away. Bear in mind you'll spend most of your time in your riding gear. It's possible to get washing done en route, so no need to over pack, as the bag has to go on the back of the bike.
Guest Houses/Hotel: We normally stay in Guesthouses overnight. Our overnight accommodation reflects what is available in the area. In small villages or 'boonies', the accommodation may be a bit basic. However, if you're tired and in need of rest, basic is more than adequate. Camping is an option. If you do camp, be careful. Laos was bombed night and day for 9 years during the Vietnam War. There are still many UXO's in the ground from that time. Exercise caution digging anywhere and be careful lighting fires. You never know what's under the soil.
Route Planning: As professionals and residents of Laos, the routes we plan ahead of time are carefully chosen based on the time of year, ability level of riders, and safety. There may be days when you have the option to relax or take some time to ride away from the group. When going off from the group, it's always best to have a plan in place. I always ask where you're going and what's your plan. Always let people know before going off from the group. As we mentioned above, Laos was very heavily bombed, earning the unenviable title of most heavily bombed country per capita. UXO from the war are still injuring and killing people in 2020. Maps available from us.

Weather: The rainy season is from April to September. If it rains a lot, 'off road' soon becomes impassable and impossible! If you're not experienced riding in mud, mud is not for you. If you are, its great fun! October to January can be cold, especially in the Northern provinces. You will then need a jacket or fleece in the evening and into the mid-morning. After that, conditions become perfect for riding. From February it gets really hot, with temperatures normally 38 Degrees. The trails are then dry and dusty.
Hydration: Laos is a hot country. While riding, you need to drink a minimum of 3 litres of water a day. Do not forget to carry water with you. If you carry a small water filter, one in each group is fine. Never underestimate the need to keep well hydrated. Water is absolutely essential, as are coconuts and hydration drinks.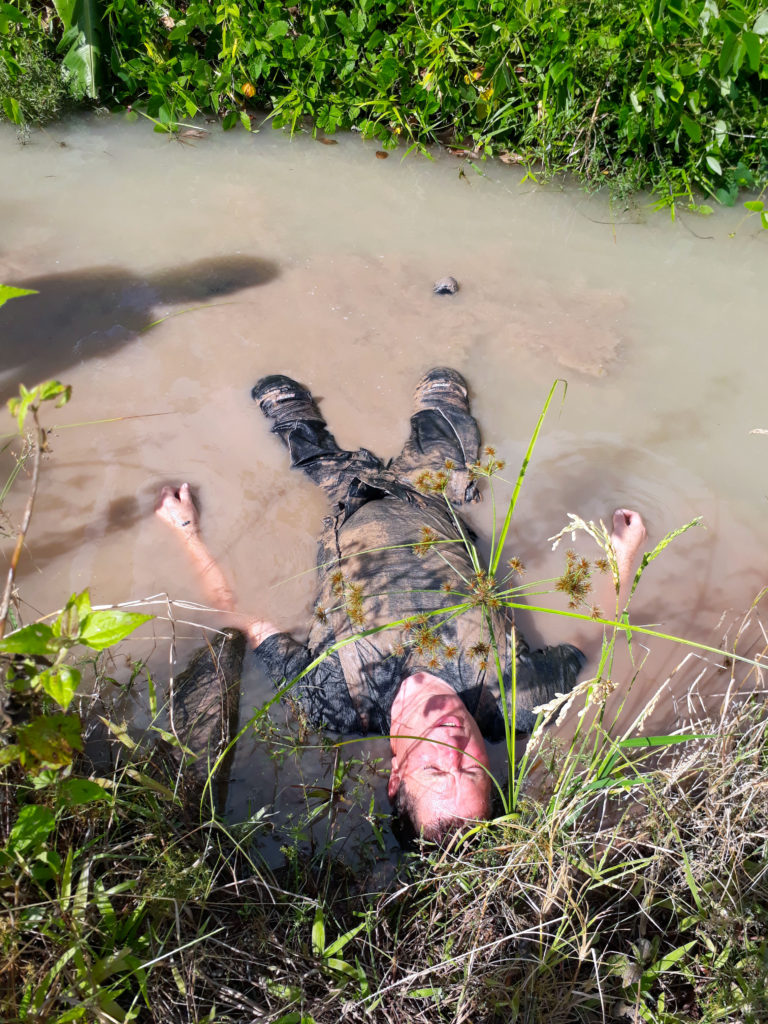 Food: On the tourist trails, you will be offered a dish called Pho, a beef noodle soup eaten by locals. It is sliced meat, served over flat or thin rice noodles. It's often topped with chili oil, lime juice, bean sprouts, long beans, holy basil, and cilantro. Hope you like it, as it may be what you eat 3 times a day in the more remote locations you visit! In bigger towns and cities, European food is available. If you're adventurous with food, there is a lot more to choose from. Riders with allergies or food restrictions must alert us upon booking.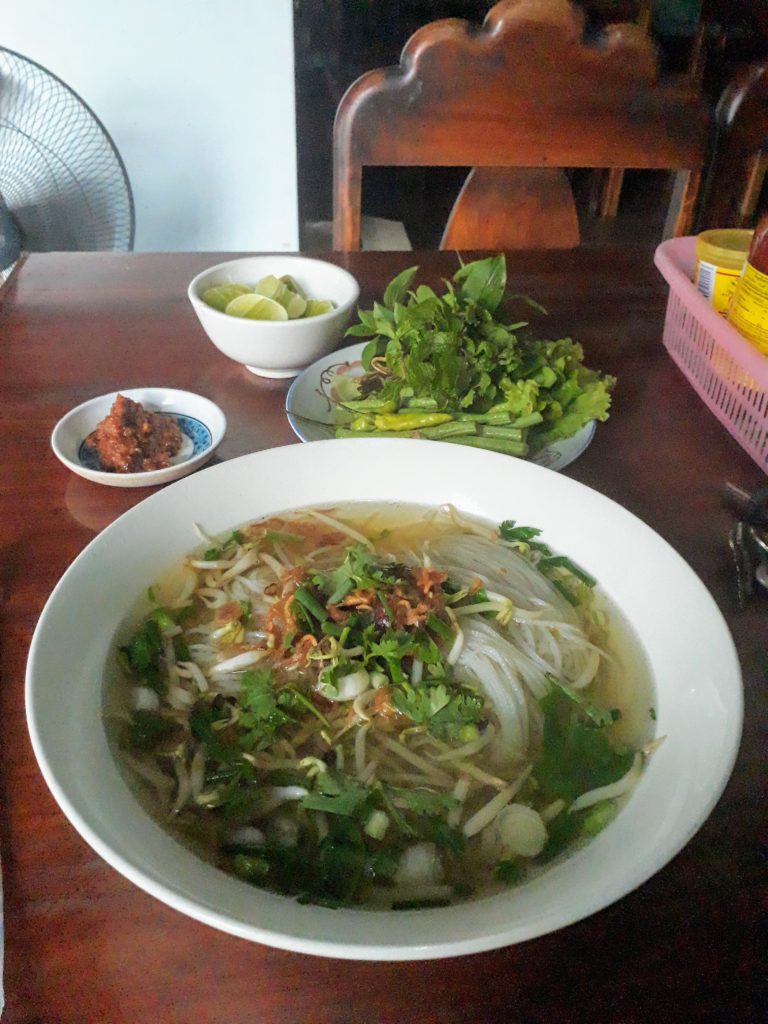 Riding in Laos offers challenges and rewards unlike any other country in Southeast Asia, let alone the world. Our Easy, All You Need Guide to Ride Laos is meant to highlight that. We are always happy to answer more specific questions you may have. For riders looking for a bit more history in their adventure, head over to our companion site to learn about the Ho Chi Minh Trail historical adventure tours we offer.
For road condition have a look here…https://www.laoadvtours.com/why-so-many-accidents/
The 9 best travel insurance companies of 2021 are listed in this link, worth a look to ensure you get the cover you need, and or, and idea of what you may need.